TIPS & TRENDS
Renovating terrazzo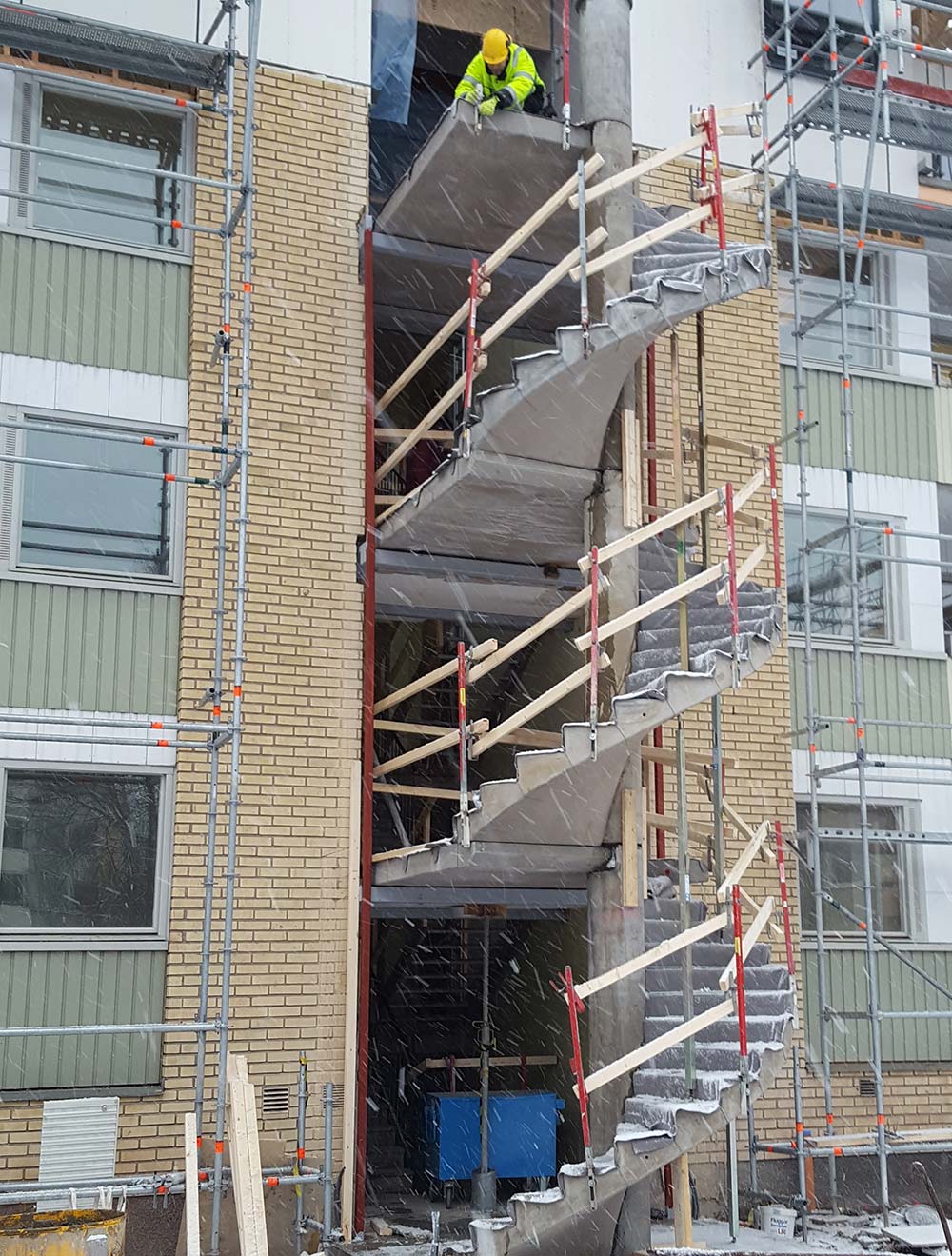 It can mean anything from a chip in a floor to renovating several apartment blocks and upgrading staircases and stairwells. Renovating terrazzo is an everyday job for us at Herrljunga Terrazzo. The material is timeless and durable, which often makes it possible to repair instead of replace. When people are considering replacing a terrazzo floor, we almost always recommend grinding it instead – it becomes as good as new with a fantastic lustre.

"Once we worked on a terrazzo floor that was revealed beneath old vinyl flooring. We ground and polished the surface with excellent results. Removing a perfectly good terrazzo floor feels dreadful when you know there were people who put many hours' work into the floor. When we put a little TLC into renovating the material, we can achieve very good results" says Peter Qvint, production manager at Herrljunga Terrazzo.

It happens that all kinds of stone gets chipped from time to time. We don't just travel out to old buildings but also to brand-new buildings to repair terrazzo. Things can happen while construction is in progress; someone maybe drops a crowbar on the floor or happens to chip a stair tread. That's when we take to the road and fill in the chip so everything looks good for moving in.

Renovations that can affect terrazzo work include everything from cutting up floors for new utilities lines, to moving walls or adding extensions to toilets. The jobs range from minor to major – sometimes we can carry everything in one hand, other times we need a truck to take the materials to the site. Skarpan is a rental apartment neighbourhood in Linköping that has undergone extensive renovation and densification. Its 282 apartments now number 432, through the addition of a fourth floor.

We worked on the Skarpan renovation for 3.5 years, until project completion last summer. Because it was time to renovate Skarpan, the opportunity was taken to add a floor and also install lifts. The stairways were renovated according to the so-called Östergötland model, in which half of a stairway is removed to make room for a lift, while a separate stairway is added outside the building.

"It was very rewarding to take part in improving this rental apartment neighbourhood. Skarpan consists of many individual buildings; in all there are 41 separate entrances with stairways. It took a long time and we worked in stages building-by-building and keeping pace with the renovation construction workers. The terrazzo work we carried out concerned both old terrazzo in existing stairways as well as entirely new surfaces, as a fourth floor was added to the renovation. We also installed the new stairs," says Peter.

One of the more difficult tasks when renovating terrazzo is finding the same colours. Sometimes we work with floors that are 100 years old; then we often have to grind them before we can begin renovating, partly to see what needs repairing and also to see the actual colour of the terrazzo. We usually remove a small piece of floor and bring it to our Terrazzolab™ to try and find the right recipe.

Sometimes we know the original recipe for a renovation, but that does not necessarily mean the terrazzo has retained the same colour, which changes as the terrazzo is exposed to wear. For some types of repairs, it can be better to choose a matching colour instead of unsuccessfully trying to re-create the existing colour. It's easy to think that cement is only available in grey, but that is not true. We're experts in the colour grey; trying to identify grey nuances can easily become an obsession," says Peter.

"Many of our projects are just like Skarpan, a mixture of new construction and renovation where a new part is added to an existing one. And it's not unusual to add further floors to a building to densify our cities without their taking up more space. Our cooperation with AB Lindstams Bygg, in particular with the site management at Skarpan, has been extremely rewarding. As someone who deals with planning and resource management, their forward planning with schedules for each stage was a joy to work with. All praise to them," concludes Peter.